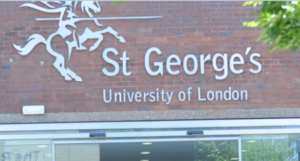 Course Developer: St George's, University of London.
Course Type: Online Free Certificate Course.
Timeline: 3 weeks.
Aim: To equip all medical and healthcare professionals with practical advice and support around how to respond to the Novel Coronavirus pandemic as front-line workers.
The COVID-19 Challenge to Healthcare Workers
The effects of COVID-19 on healthcare systems around the world is unprecedented. As a healthcare professional, it's essential to be knowledgeable on how to respond to this, safely and effectively.
This course which is facilitated by experts at St George's University of London, will help you explore the epidemiology, clinical symptoms and signs, and current management of COVID-19, using the evolving situation in the UK as a case study.
Additionally, you'll learn how to complete a safe assessment of suspected COVID-19 cases and discover the best protocol to protect yourself and others.
Course Syllabus
Background of COVID-19
Current situation in the UK
When to suspect COVID-19 infection in primary healthcare
Safe assessment of COVID19 cases
Infection prevention and control
Management of acutely unwell patients
Consultation tips and advices on keeping your practice running safely.
Specific Objectives
By the end of the course, participants will be able to:-
Improve your understanding of the coronavirus disease 2019 specifically to the situation in the UK
Describe the correct management plans for patients on home isolation
Identify procedures for prevention and control in primary care
Apply the necessary measures to keep your general practice running and routine care
Eligibility & Requirements
This course is designed for front-line clinicians, healthcare workers and professionals who are dealing with the large volume of patients in the current COVID-19 pandemic within the UK primary care.
Although this course will be based around guidance by UK public health bodies, this course is also relevant to healthcare practitioners worldwide.
Certification
To be certified in this course, you will experience the following:-
Unlimited access to course materials, such as articles, videos, peer reviews and quizzes
Tests to validate your learning
N/B: Joining and learning the course is free. But to get a print and digital Certificate of Achievement once you're eligible, you will need to upgrade the course and pay $39.
About St George's, University of London
St George's, University of London, is a medical school located in Tooting in South London and is a constituent college of the University of London. St George's has its origins in 1733, and was the second institution in England to provide formal training courses for doctors. Today, St George's is the UK's only university dedicated to medical and health sciences education, training and research.
Click here to enroll for this course
Also Read:
FutureLearn Online Course: COVID-19; Tackling the Novel Coronavirus
FutureLearn Online Course: Bacterial Genomes; Antimicrobial Resistance in Bacterial Pathogens
Top 10 Health Grants to Fight Coronavirus