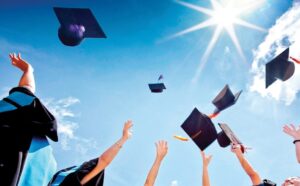 Steps to Achieving Academic Excellence.
The essence of what I'm about to write about academic excellence for students is not how everyone must get a first class or fight to become the best graduating student in our sets. First class is beautiful, so also is becoming the best graduating set. As beautiful as those accolades are, amazingly that is not necessarily what I've come to preach.
Someone might be tempted to ask: Why? Well, because as our faces differ, so does our destinies, our callings and our purposes in life also differs from one another. Therefore, I'm here rather to let us understand how academic excellence can position you properly for the actualization of your life purpose as different individuals both as a student and later on as a graduate.
1. Get academic mentors. Why do you need mentors?
Mentors in this context are those people who are in senior classes and levels who have gone ahead of you through all the classes you are going to enter, until you graduate from this school. Why do you need their mentorship? Because whatever you are going to see, they have seen it. If there are course they failed or performed poorly, you will learn from their mistakes and avoid them. If there are courses they had all A's, you will also learn the right step they took and replicate those right steps. In fact, in just 30 minutes, someone can summarize his experience in a particular level let's say 100 level for you and highlight for you all the important lessons he has learnt so far. Most of the times, as they are talking to you, they are handing over to you past questions, previous lecture notes, text books and other relevant handouts and materials. Immediately you get a chance to connect with them state your mission that you would want to be mentored by them and ask specific questions that will make them to share their experience. So if you desire academic excellence as a student getting good mentors and people you can always ask questions is worth every efforts it might cost you.
My Story of How I benefited from Academic Mentorship
During my early days in first year undergraduate studies, when I first had the vision for academic excellence, I needed mentors but I didn't know anybody to talk to. Now one day, Scripture Union, a Christian fellowship on campus, came and preached to us and I decided to join the fellowship. On getting there, I met a lot of senior students who were in the classes above. I got talking with many of them and decided to ask each of them separately to give me an academic orientation. I spoke with about 10 different persons. I sent them text individually. To each person, I will ask, can you please give me an academic orientation about first year, and any other useful materials like past questions, lecture notes, text books will be appreciated. Luckily many of them responded. So I sat down and listened to each of them differently. As I'm meeting them, I have already written out all the courses offered in year one. BIO 101, MAT 101, PHY 191 etc. So I'm asking them how did you handle course A, course B etc. how does the exam look like, what else do I need to know or do to excel in this particular level? At the end of listening to them, I discovered that every course in school had a story line, every particular lecturer has what and what they normally like in exam, every course has past questions and past lecture notes etc. I got to know about courses quiz, practical works, log book etc. I got to know the importance of past questions and how the exams look like for each of the courses. After speaking to me, most of them handed over to me past questions, previous lecture notes, handouts, text books and other useful materials. That was how I became an information bank in my class.
2. Pay the Price for Academic Excellence
So, with all the information that I have gathered from my senior colleagues, it enabled me to start preparing for the end from the very beginning of the semester. So, from the first day I begin each class I get all these information from those my senior mentors and I begin to prepare for the end which is exams from the very first day of every semester. I study the past questions, it tells me how the exams look like, it positions me to ask reasonable questions and seek necessary clarifications ahead of time. Now I used loyalty and respect to maintain these friendships. Sometimes, I send them new month, new week, happy Christmas text messages. And many of them liked me. It got to a point, on their own they even call me, Ooh Charles, there is this material I stumbled at I think you might find it useful. Even when I have issues with my academics, I run back to them. So I always have access to information. This is the importance of mentorship. So, I have learnt to apply this principle in every other of my life endeavors. Before I venture into anything, I humble myself and try to know the secrets of that venture and prepare for every phase of the journey from the very beginning. It reduces my chances of failure and increases my chances of success.
3. The Role of Consistency and Time Management in Academic Success
Now with all the lectures that you will receive, lecture notes, text books and past questions that you're going to be studying as the semester unfolds. I want to say that the key to studying and retaining what you have read is consistency. How often do you study each course material over and over again? There is a saying that: You become what you consistently do. The first time you read through a lecture note, text book or past question it's only normal that it will look strange. But by the time you come back to it the second time, your understanding is increased a little, by the 3rd time you almost begin to master the information line by line. That's the power of consistency. And now the key to consistency is time. Everybody has the same 24 hours in a day. But the difference in how much each person will achieve with it lies in their various priorities. When you make academic excellence one of your priorities as a student, it determines how much time you will commit to it. What GP makes 21? How many semesters are in a 4-year course? So, if you're studying a 4 years course for instance, and your goal is to make a 21. Then it means that you should be able to consistently produce a GP of 3.5 or above in all the 8 semesters that make up that 4 years course. And your ability to get the best from each semester depends on being able to give account of what happens in each day that make up that semester. That's time management.
4. How to Prepare and Excel in Examinations
As exam approaches, I find a way to discuss each of my lecture notes with my classmates. Because I discovered that whenever I speak out something to someone or try teaching it to others, I learn that thing twice. Again, I don't ever write any exams without knowing the story line for that course or haven solved all the available past questions or at least that of the last 5 years. And it helped me a lot. Now, for those of us here, especially Nigerians, who have written OBJ exams before be it in secondary school, WAEC, JAMB, or in the university, you will discover that each time you go through the entire OBJ questions for the first time in an exams there are usually some questions you may find difficult answering at that first glance. But each time you come back for the second round you will always discover you now have more understanding of those questions you couldn't attempt earlier. Does it happen? Yes. (I learnt this too). Now what I'm writing theory exams I learnt to always write the ones I know very well first. Then come back and make sure I make an attempt every other question. That if a theory exams says attempt 5 questions, the first rule in passing or getting a good grade in that exam is ensure I answer up to that 5 question even if it means re-writing the questions back.
5. Overcoming Distractions in School and Academic Settings
It's not just about doing the things that can help you actualize your visions only. It's also about avoiding the things that can stop you from actualizing that great vision. You need to understand that people also have their own priorities in life, too which may vary from yours which they may never tell you. So, when you have identified what you're passionate about don't care so much or be distracted or carried away by what others are doing and how much they're already achieving. Give priority to that your own vision and passion and give yourself time. In my third year, I had an interest in students politics to contest student union government (SUG) Director of Welfare, I had already gone halfway into it when I realized that with this journey I won't sustain my academic records. I sacrificed that political interest. Even Relationship can be a distraction. Relationships and friendships can either support your goals or pull you down depending on who you associate with. I know for some of us in our minds we will also be wondering is it wise to go into relationships at this level? Well I'm not a relationship expert but let me just say this: If you go into relationship with someone who does not think the way you think and does not value the same things you value then there is a problem. Because on the long run, it's either I sacrifice those your visions in order to keep the friendship. Or you will sacrifice the friendship in order to remain committed to my visions. So, the kind of relationships that can support you to actualize your life visions is not just about Love. Your partner must share a significant part of your values, goals, dreams and aspirations otherwise the center will not hold! Finally on distractions, be bold enough to always say no to what you don't want. And avoid destiny killers (alcohol, cultism, drug abuse). You can see someone with beautiful dreams but these ruined their lives.
6. Tips for Getting Sponsors in Life
The truth is that we need money and Lack of finances can delay or even distract us from committing to our visions. Be it in Education, Business, Politics etc. Sometimes, we or our immediate family may not have all of this money that we need. But God always provides some destiny helpers. We need to recognize them and network with them. You see, those people that can support you financially, those people that place a phone call and speak for you at higher quarters where you cannot reach. They are the people we call sponsors. So how do you get that person that can support your dreams? They may happen to be members of your wider family, family friends or even external people who your paths have crossed on the street, market square or church. Today, write out the names of the 10 most important people in your life. Use your loyalty and respect to win their minds and support. Call and text messages. For instance, get their phone numbers. You may not call or visit them all the times. But you can always send them text messages. It could be All these; Happy new month, happy weekend, happy Christmas, New Year text messages. You see, many successful people don't get care they only get problems to solve. Take yourself to a point where they will own you up, my son, my daughter, my boy. At that point they can go miles to support you financially. At that point they can stand up to speak for you at levels that you cannot. At that point they can go miles to protect your interest. Well, let me flag a caveat. Somebody may succeed without sponsors. But sponsors can help provide you with the financial and technical support needed to reach your goals faster
7. See School as a training Ground for the desired future
The school is the best time to make mistakes and learn. If you have passion for Politics, the school is an opportunity for you contest at class level, departmental, faculty or even student union government. Even if you don't contest support someone, whether you win or not, there are experiences that you can never get except you get involved. If you have a calling into the clergy to be a pastor or a priest, the school is also an opportunity for you to be very active in fellowship and church activities. Even to the level of becoming fellowship president, student pastor. They will all help to prepare you for the journey ahead. What If you dream of being an academician, before you graduate you should create a good rapport with the Dean of your faculty, the HOD of your department, most of your lecturers and even some key persons from the wider university community. This is because for you to further with your masters and PhD programs, these people one way or the other will always be required to write some recommendations that will speak for you! And even when you're done with your masters and PhD programs the number 1 place where you have the greatest chances of getting employed as a lecturer is in that your same department where you studied. So, there is utmost need to have a good rapport with your mother department that will keep paying off long into the future. What if you have passion for business, while you're still a student you should start identifying business opportunities even in your campus and attempt to solve those problems for which you will get paid. So whatever you would want to become in Life, the school is a good time to start the foundation.
8. Concluding Tips on Academic Excellence
Once you've defined what you want in life, you may have challenges. It may be financial or other forms of setback. But interestingly, nothing is permanent. That you have a vision or set a goal doesn't mean you must actualize it as at when and how you planned it. It doesn't also mean that if you don't actualize it exactly the way you wanted, that you've failed. Even if you fail along the line, try to rise up as fast as you can. So, you may set a vision for First Class and finally land in a 2"1". Or you may aim for a 2"1" and land in a 2"2". But make up your mind that at least you are not going to fail any course. So, be confident to decide that you will be above academic failure. Because with persistence, commitment and determination these things are possible. And always know that with God you can do all things. If I could do it, you too can.