Eligibility: All members Commonwealth Countries
Application Deadline: July 9th 2020 – 4:00 (UTC +1).
Course: MSc in Molecular Life Sciences and an MSc in Molecular Immunology to be hosted by Institute of Biochemistry Molecular Biology and Biotechnology (IBMBB), University of Colombo, Sri Lanka.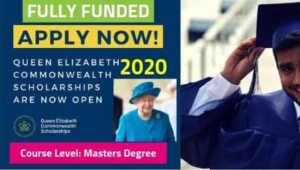 Background of Queen Elizabeth Commonwealth Scholarships 2020
Queen Elizabeth Commonwealth Scholarships are a unique opportunity to study for a two-years Master's at leading Association of Commonwealth Universities (ACU) member universities across the Commonwealth. The Association of Commonwealth Universities (ACU) is an international organization dedicated to building a better world through higher education.
International collaboration is central to this ambition: by bringing universities together from around the world – and crucially the people who study and work within them – the ACU helps to advance knowledge, promote understanding, broaden minds, and improve lives. The ACU champions higher education as a cornerstone of stronger societies, supporting its members, partners, and stakeholders as they adapt to a changing world.
Requirements for Queen Elizabeth Commonwealth Scholarships 2020
Applicants must apply for a QECS award in a country other than their home country/country of citizenship.
There is no upper age limit to be eligible for a QECS Award. You must have already completed your degree and have graduated with an equivalent of a 2:1 at the time of application.
As part of the application process you will be asked to provide a copy of your final transcript degree certificate, two references and National ID/Passport. QECS are available for master's degrees only.
Funding and What the QECS covers
Award recipients receive:
Tuition fees – fully funded.
Stipend – Living expenses allowance for duration of award
If selected, all allowances will be stated in your award letter.
Return economy flights to your host country
An arrival allowance
Research support grant – on request only; subject to approval
Applications for QECS is in two fold
You will need to apply for admission to the university course separately to the university.
You will need to submit a separate application for the Queen Elizabeth Commonwealth Scholarship award.
Key Selection Criteria for QECS Award.
The selection committee assesses applications using four key criteria:
Academic history/references
Plan of Study
Development Impact and Post Study Outreach
Creating Networks
Additionally, to increase your chances of being selected you must ensure:for an application to be considered for selection, applicants must ensure that:
Your personal statement is written clearly so that a non-specialist can understand what the aims of the research are and how they will be implemented
You clearly outline why they are applying to the courses and institutions listed on their application form. You must tailor these answers to each institution – if you write the same answer for each course/institution or copy and paste text from university websites, then your application will not be considered.
You meet all the eligibility requirements for their chosen university course, including having the necessary work experience
Two referees are identified and references are provided– references should be detailed and include the content outlined on the application form
About Commonwealth
The Commonwealth is a powerful network of 54 countries, working together to promote democracy, human rights, and the rule of law. These countries share a history, language, and institutional structures, which paves the way for collaboration and partnership.
The Commonwealth is a living laboratory for change, and a network with great potential – two-thirds of its population of 2.4 billion people are under the age of 30.
RELATED POSTS:
International Society for Infectious Diseases (ISID) Research Grants 2020
African Academy of Sciences Grant for Covid-19 Research in Africa