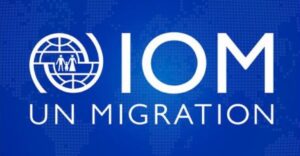 Chief Nurse Vacancy at International Organization for Migration (IOM), Lagos, Nigeria.
Position Title: Chief Nurse
Job Location: Lagos State, Nigeria
Classification: Professional Staff, Grade P2
Job Duration: Fixed term for one year with possibility of contract extension
Application Deadline: February 17th, 2022.
About International Organization for Migration (IOM)
With 174 member states and a presence in over 100 countries, the International Organization for Migration (IOM) is part of the United Nations System as the leading intergovernmental organization promoting humane and orderly migration for the benefit of all since 1951. As a leading intergovernmental organization in the field of migration, IOM works synergistically with governmental, intergovernmental and non-governmental partners. It does so by providing services and advice to governments and migrants. Essentially, the IOM Constitution recognizes the link between migration and economic, social and cultural development, as well as to the right of freedom of movement. IOM works in the four broad areas of migration management: Migration and development, facilitating migration, regulating migration, and forced migration.
Qualified Applicants for the Chief Nurse Position at IOM, Lagos, Nigeria.
For all IOM vacancies, there are two major categories of candidates, who are eligible to apply, tier-one and tier-two. Special considerations are also given to qualified female candidates and candidates from the non-represented member countries of IOM.  Usually, applications from qualified and eligible tier-one candidates are considered before those of tier-two candidates.
Tier-One: Internal candidates (Nigerians) and candidates from the following non-represented member states: Antigua and Barbuda; Aruba (Netherlands); Botswana; Cabo Verde; Comoros;Congo (the); Cook Islands; Cuba; Curaçao; Fiji; Guinea-Bissau; Guyana; Holy See; Iceland; Kingdom of Eswatini; Kiribati; Lao People's Democratic Republic (the); Latvia; Libya; Luxembourg; Madagascar; Marshall Islands; Micronesia (Federated States of); Montenegro; Namibia; Nauru; Palau; Saint Kitts and Nevis; Saint Lucia; Saint Vincent and the Grenadines; Samoa; Sao Tome and Principe; Seychelles; Solomon Islands; Suriname; The Bahamas; Timor-Leste; Tonga; Tuvalu; Vanuatu
Tier-Two: All external candidates, except candidates from non-represented member states.
Job Description for the Chief Nurse Position at IOM, Lagos, Nigeria.
The successful candidate will be under the overall supervision of the Chief of Mission (CoM) and the direct supervision of the Chief Migration Health Officer (CMHO), and in and in coordination with the Migration Health Officer (MHO) for Lagos. The candidate shall be responsible for carrying out the following duties and responsibilities in relation to the Migration Health Assessment Centre (MHAC) in Lagos, Nigeria.
1. Establish and maintain an optimal workflow in all the migration health assessment nursing and clerical activities in Nigeria to fulfil the technical requirements of the resettlement countries in the areas of:
Medical examinations;
Imaging;
Laboratory testing;
Vaccinations;
TB management;
Treatment and referrals;
Pre-departure procedures and medical movements;
Counselling;
Documentation, certification and information transmission; and,
Other technical areas as may be required.
2. Support and monitor resource management in HAPs in the following areas:
In coordination with MHO recommend optimal staffing levels and organization of nursing and support staff;
Participate in the selection process of and provide training, guidance and supervision to nursing and other staff;
Monitor inventory of medical supplies and verify that all Migration Health Assessment Clinics have clear SOP's regarding medical supply procurement; Roll out Pharmacy Inventory Management System (PIMS) related to medical equipment and supplies in the mission;
Assist CHMO and MHO Lagos in budget reviews towards the adequacy of human and material resources for programme implementation;
Maintain an optimal staff flow, including the allocation to routine duties, staff leave planning and work handover; and,
Ensure implementation of fraud-prevention measures, including testing performed outside of the MHAC.
3. Monitor clinical practice across HAP operations using standardized auditing tools and provide feedback on clinical and workflow performance. Disseminate and promote the implementation of best practice standards and compliance with resettlement countries technical Instructions as they relate to nursing activities within HAP operations.
4. Supervise management of Sexually Transmitted Infections (STIs) and directly observed treatment/therapy short course (DOTS).
5. Support the implementation of Infection Prevention and Control standards in IOM Lagos medical facility.
6. Implement sound monitoring system of medical document flow and data entry; perform routine spot checks and apply quality assessment/quality control mechanisms to ensure errors are minimal in the relevant databases as well as organizing in-house trainings and keeping track of nurses' engagement in continuous medical education.
7. Draft and finalize medical and administrative reports and program updates as necessary; report any inconsistencies or issues to the Chief Migration Health Officer (CMHO).
8. Coordinate, and perform if needed, the medical escort duties when required to ensure migrants receive continued care throughout all phases of migration (before departure, during the journey and at the final destination).
9. Prepare and finalize statistical information and share with the CMHO as per pre-set and agreed upon format.
10. Maintain collaborative relationships with various partners to facilitate the follow up and relevant information sharing. Partners include internal IOM departments, other health providers, panel physicians, Embassies other UN agencies or NGO's and others as applicable.
11. Perform other duties as may be assigned.
Qualifications and Experience Requirement for Chief Nurse Position at IOM, Lagos, Nigeria.
Educational Qualifications
Master's degree in Nursing, Community or Public Health, Infectious Diseases, Tropical Medicine or a related field from an accredited academic institution with two years of relevant professional experience; or
University degree in the above fields with four years of relevant professional experience.
Accredited Universities are the ones listed in the UNESCO World Higher Education Database (https://whed.net/home.php).
Experience Required
Training or working experience in the areas of Tuberculosis management, mass immunizations, communicable diseases, laboratory testing, epidemiology, programme management or public health is an advantage;
Understanding of evidence-based clinical skills and demonstrated experience promoting nursing best practice, nurse educator etc;
Familiarity with IOM's administrative, financial, and business rules and practices;
Experience working on migration health and/or public health topics of international concern;
Good knowledge of nursing principles, techniques and procedures: knowledge of public health as well as general migration related issues;
Demonstrated ability to maintain detail, accuracy and confidentiality at all levels of the health assessment process;
Knowledge of specialized medical software is required. Knowledge of eMedical and MimosaWeb is an advantage.
Skills Required
Good level of computer literacy;
Excellent proven written and oral communication skills; ability to clearly communicate health-related topics to non-health audiences;
Ability to work in close coordination with a broad range of different units, divisions and colleagues on various topics/initiatives to achieve a common objective.
Minimum Language Requirement
IOM's official languages are English, French, and Spanish.
External applicants for all positions in the Professional category are required to be proficient in English and have at least a working knowledge of one additional UN Language (French, Spanish, Arabic, Russian or Chinese). For all applicants, fluency in English is required (oral and written).
Proficiency of language(s) required will be specifically evaluated during the selection process, which may include written and/or oral assessments.
Competency Requirement for the Chief Nurse Position at IOM, Lagos, Nigeria.
Values – all IOM staff members must abide by and demonstrate these three values:
Inclusion and respect for diversity: respects and promotes individual and cultural differences; encourages diversity and inclusion wherever possible.
Integrity and transparency: maintains high ethical standards and acts in a manner consistent with organizational principles/rules and standards of conduct.
Professionalism: demonstrates ability to work in a composed, competent and committed manner and exercises careful judgment in meeting day-to-day challenges.
Core Competencies – behavioural indicators level 2 
Teamwork: develops and promotes effective collaboration within and across units to achieve shared goals and optimize results.
Delivering results: produces and delivers quality results in a service-oriented and timely manner; is action oriented and committed to achieving agreed outcomes.
Managing and sharing knowledge: continuously seeks to learn, share knowledge and innovate.
Accountability: takes ownership for achieving the Organization's priorities and assumes responsibility for own action and delegated work.
Communication: encourages and contributes to clear and open communication; explains complex matters in an informative, inspiring and motivational way.
Managerial Competencies – behavioural indicators level 2
Leadership: provides a clear sense of direction, leads by example and demonstrates the ability to carry out the organization's vision; assists others to realize and develop their potential.
Empowering others & building trust: creates an atmosphere of trust and an enabling environment where staff can contribute their best and develop their potential.
Strategic thinking and vision: works strategically to realize the Organization's goals and communicates a clear strategic direction.
Other Requirements
Internationally recruited professional staff are required to be mobile.
Any offer made to the candidate in relation to this vacancy notice is subject to funding confirmation.
This selection process may be used to staff similar positions in various duty stations. Recommended candidates endorsed by the Appointments and Postings Board will remain eligible to be appointed in a similar position for a period of 24 months.
The list of NMS countries above includes all IOM Member States which are non-represented in the Professional Category of staff members. For this staff category, candidates who are nationals of the duty station's country cannot be considered eligible.
Appointment will be subject to certification that the candidate is medically fit for appointment, accreditation, any residency or visa requirements, and security clearances. Subject to certain exemptions, vaccination against COVID-19 will in principle be required for individuals hired on or after 15 November 2021. This will be verified as part of the medical clearance process.
To Apply Click Here