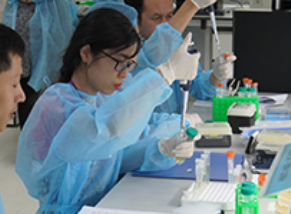 Timeline: 3 weeks (Runs multiple times).
Course Type: Online Free Certificate Course.
Aim: To understand antimicrobial resistance (AMR), it's detection and to explore it's relevance in clinical practice.
The Challenges of Antimicrobial Resistance (AMR)
Antimicrobial resistance (AMR) is a critical issue public health concern. If current trend are not reversed, global projections predict the loss of about 10 million lives and up to $100 trillion loss in global production by 2050. AMR, according to the United Nations and the WHO, requires immediate international action to change the narrative.
This course, will help you explore the historical and epidemiological aspects of antibiotics and AMR, and recognise its clinical significance. It will also help you to explore the role of genomics in tackling AMR from research, diagnostic and surveillance perspectives, as well as the principles and practice of AMR Quality Assurance.
Course Syllabus
Week 1: Introduction to Antimicrobial Resistance (AMR)
Week 2: Antimicrobial Susceptibility Testing
Week 3: Genomic Surveillance of AMR
 Specific Objectives
Describe the clinical significance and challenges of AMR
Identify the resistance profile of bacterial pathogens
Explore the role of genomics in tackling AMR from a research, diagnostics and surveillance point of view
Describe molecular approaches and techniques for the detection and characterisation of AMR genes
Explain the principles and practice of Quality Assurance and Quality Control in AMR surveillance techniques, antimicrobial susceptibility testing and reporting
 Eligibility & Requirements
This course is for researchers, medical and healthcare professionals interested in infectious diseases, epidemics and the problem of microbial resistance. It will help those with backgrounds in microbiology or bioinformatics to work together.
Prior learning or knowledge of AMR is helpful but not compulsory.
No previously installed software is required. You may be required to access websites to use bioinformatics tools.
 Course Developer
This course was developed by Wellcome Genome Campus Advanced Courses and Scientific Conferences. Wellcome Genome Campus Advanced Courses and Scientific Conferences provides open postgraduate courses and conferences focused on biomedicine.
Certification
To be certified in this course, you will experience the following:-
Unlimited access to course materials, such as articles, videos, peer reviews and quizzes
Tests to validate your learning
A PDF Certificate of Achievement to prove your success when you're eligible
About FutureLearn
FutureLearn is a digital education platform founded in December 2012. The company is jointly owned by The Open University and SEEK Ltd. It is a Massive Open Online Course learning platform, and as of May 2018 included 143 UK and international partners, including non-university partners. Headquarters location is in London.
Click here to enroll for this Course
Read Also: Top 10 Health Grants to Fight Coronavirus
Read Also: SOLVE CHALLENGE FOR HEALTH SECURITY AND PANDEMICS