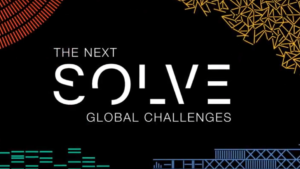 How can communities around the world prepare for, detect, and respond to emerging pandemics and health security threats? You may help us provide answers to this pertinent question.
Deadline to Submit a Solution: 18 June, 2020
Overview of SOLVE Challenge

Coronavirus disease 2019 (COVID-19) is the latest in a series of infectious disease emergencies, including Ebola, SARS, cholera, Chikungunya, influenza and HIV/AIDS. While scientists and drug developers, with support from governments and multilateral organizations, have been rushing to produce, test, and deliver vaccines and treatments, tech innovators also have a crucial role to play, both in the near term and to prevent and mitigate future disease outbreaks.
In the near term, we need improved solutions for prevention, accurate detection, and rapid response. MIT Solve is seeking tech innovations that can slow and track the spread of an emerging outbreak, for example by improving individual hygiene, developing low-cost rapid diagnostics, analyzing data that informs decision making, and providing tools that support and protect health workers.
At the same time, we cannot solely treat disease outbreaks reactively. Climate change and globalization leave us ever more vulnerable to future epidemics and pandemics, and it's critical to be prepared. Solve is also seeking solutions that focus on preventative and mitigation measures that strengthen access to affordable primary healthcare systems, enhance disease surveillance systems, and improve healthcare supply chains.
So we need your help. How?

Do you have a solution that matches this? If yes, kindly apply.
Solve Challenge Funding
All solutions selected for Solve's five current Global Challenges grant funded by Solve. A panel of cross-sector judges will select Solver teams at Solve Challenge Finals. this will take place during UN General Assembly week in New York City come September 20, 2020.
Who can apply to Solve's Challenges?
Anyone, anywhere around the world can submit a solution to Solve's Challenges. You can be an individual, a team, or an organization. You can be an applicant from previous years or already part of our community. If you have a solution, we hope you'll apply.
How does Solve Challenge's platform work?
Solve's award-winning open innovation platform was designed based on 10 years of research conducted by the Climate CoLab, a project of the MIT Center for Collective Intelligence which studies how people and computers can be connected so that collectively they act more intelligently than any one person, group, or computer has ever before.
Innovators and entrepreneurs, wherever they are in the world, can submit their solution to Challenges hosted on Solve's platform using a user-friendly interface that encourages user participation beyond solution submission in the form of community commenting, voting, and editing solutions. In addition, all judging is completed inside the platform, where solutions are assigned to specific judges to evaluate those solutions.
About Solve
Solve is an initiative of the Massachusetts Institute of Technology (MIT) with a mission to solve world challenges. Solve is a marketplace for social impact innovation. Through open innovation Challenges, Solve finds incredible tech-based social entrepreneurs all around the world. Solve then brings together MIT's innovation ecosystem and a community of Members to fund and support these entrepreneurs to help them drive lasting, transformational impact.