Application Deadline: 10th May, 2020.
Job Location: Lagos, Nigeria.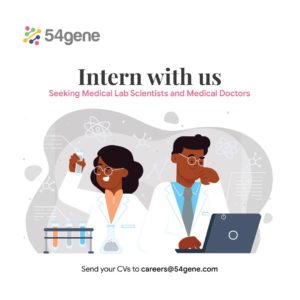 Internship Opening at 54GENE Lagos Nigeria for Medical Doctors and Medical Laboratory Scientists
Applications are invited from suitably qualified candidates for remote Internship post into the under listed positions:-
Medical Doctors
Medical Laboratory Scientists
How To Apply
Send your curriculum vitae (CV) to careers@54gene.com before midnight WAT of 10th May, 2020.
About 54gene
54gene is a medical and research organization that aims to build genetic data sets that make landmark discoveries a reality. Africans house the most genetically diverse DNA in comparison to all other world populations combined. In gathering insights from the African genome, 54gene seeks to power medical breakthroughs and discoveries that will change the entire landscape of healthcare, globally. 54gene fully recognize the tremendous potential that this presents. Presently, most genomic data used for development research is from Europe, United Kingdom and North America with African genomic data only accounting for less than 3%. 54gene exist to close this gap by increasing access to highly curated genomic data from African populations.
For more information, check out 54gene's official twitter page @weare54gene.
READ ALSO: University of Nigeria Teaching Hospital (UNTH) Internship Opening